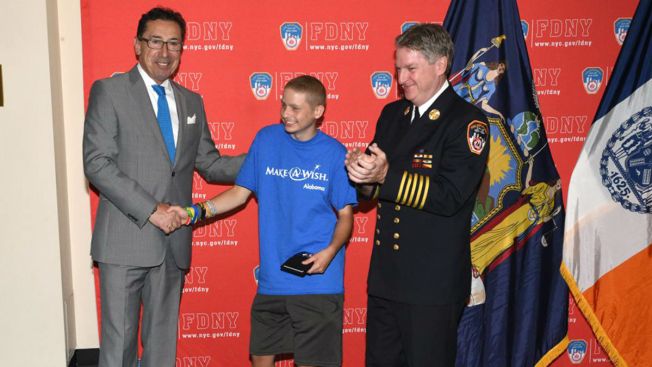 Shelton Waldrop always wanted to be a law enforcement officer. His wish was to meet first responders from 9/11. He didn't know he was going to be pinned as an honorary FDNY firefighter as well.
Waldrop, 16, has been undergoing treatment for Synovial cell sarcoma, a rare form of soft-tissue cancer that may involve the lungs. In 2016, chest X-ray showed one of his lungs collapsed and collected liquid, according to AL.com. He was one of 52 children in the world diagnosed with the cancer at the time.
Through Make-A-Wish foundation in Alabama, Waldrop was sworn in Wednesday as an honorary firefighter at the FDNY headquarters in Brooklyn.
Waldrop was awarded a Senior SWAT Operator pin by the Jefferson County Sheriff's Office in Alabama in 2016.
"Today is a special day because we are welcoming Shelton as the newest member of the FDNY as he takes the oath to become an honorary Firefighter. Shelton may be young, but he has already shown tremendous courage far beyond his years, bravely battling illness as he undergoes treatment for cancer," said FDNY Commissioner Daniel A. Nigro.